History of Milwaukee

Disruptive Innovation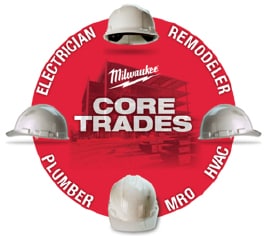 In January 2007, Steven Richman became president of Milwaukee Electric Tool Corporation and began its transformation into a company that is not only known for heavy-duty tools, but for "Disruptive Innovation". Under his leadership, the company became laser-focused on its "Core User Group" once again, investing heavily in new product development and delivering innovative solutions to the plumbing, electrical, HVAC and MRO trades. "Disruptive innovation" became a mantra for the company, a term used to describe products that not only deliver new-to-world technology and unparalleled levels of performance and productivity to the user, but can even change the way their job will be done in the future.
Instead of making assumption about what the user needs, Milwaukee delivers this innovation by getting out on the jobsite, alongside professional tradesmen, to understand the challenges they think about from the time they wake up in the morning until the time they go to bed at night. This allows the company to deliver solutions that solve everyday problems, enhance safety and maximize productivity.
Milwaukee Tool also takes pride in its ability to bring this disruptive innovation to market in the fastest possible way. This is accomplished by eliminating organizational bureaucracy, relentlessly focusing on the needs of its core users and making sure all of the necessary ingredients for product development are internal. With everything from rapid prototyping and industrial design, to front end engineering and development being done in parallel internally, rather than in sequence externally, Milwaukee Tool can develop new products faster and more effectively.