History of Milwaukee

Industry Leader

As the home-construction industry in the United States flourished, Milwaukee's power tools became a key element in the building of American suburbia, becoming known for portability and the reliably of standing up to the most demanding working conditions. By the 1960s, Milwaukee had become a market leader. It expanded into new product lines and built up its manufacturing capabilities to keep up with demand.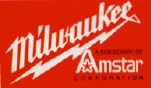 A change of ownership in the 1970s to become part of Amstar and the rise of the consumer power tools market did nothing to change either its focus on the professional tools sector or its ground-breaking capacity. Professional tools sold at higher prices than consumer tools and were superior in quality and precision. Combined with Milwaukee's leading position, an elite status grew up around the company's products, establishing a loyal following from professional tradesmen.
In the 1970s Milwaukee introduced several new products including the Hole Hawg™, the first drill designed specifically for large hole drilling between studs and joists in residential construction. Milwaukee also introduced the first 1/2" professional pistol drill, the Magnum Hole-Shooter™, and the first U.S. made 4-1/2" angle grinder. In addition, Milwaukee continued to upgrade its original ground-breaking tools. The SUPER SAWZALL™ Recip Saw spent two years undergoing testing before being launched on the market and setting a new global standard for reciprocating saws with its fast-cutting action and greatly reduced vibration
Milwaukee also revolutionized the portable band saw category with the launch of a Deep Cut Band Saw in the early 1980s. With the same compact structure of their smaller unit, the new Deep Cut Band Saw offered a larger 4-3/4" x 4-3/4" cut capacity and faster cutting speeds while remaining light weight. The launch catapulted Milwaukee into a market leader position for the Band Saw category, and the Milwaukee Band Saw continues to be a product that tradesmen around the world regard as second to none.
With a commitment to quality and durability, Milwaukee became the first domestic power tool manufacturer with ISO certification for all its facilities by the mid-1990s